Charitable Shareholders
J R McKenzie Trust - Principal Charitable Shareholder
With a 51% shareholding in Rangatira, the J R McKenzie Trust is our principal shareholder. The trust was founded by Sir John McKenzie in 1940 with a stated purpose of helping others to help themselves, with the end result being much greater than the actual gift. Following in his father's footsteps, Sir Roy McKenzie served as Chair of the J R McKenzie Trust from 1947 - 1973 and of Rangatira Ltd from 1968 - 1985. Under his guidance, the trust further developed a reputation for being open, transparent and approachable.
Over time a more contemporary vision has been developed by the Trust of "A socially just and inclusive Aotearoa New Zealand". This was adopted by the Trustees in 2008. As set out in its Trust Deed, it allows the Trust Board to make donations for any charitable or education purposes by responding to grant applications received twice a year from registered charities, community groups and non-government organisations. Members of the McKenzie family serve on the J R McKenzie Trust board continuing the family legacy.
Today the key areas of the Trust are disadvantaged children and their families, and Maori development. Other issues of social justice that require community mobilisaton and advocacy can also be funded.
The trust provides over $6m in grants to over 50 organisation each year, supporting great causes including:
Child Poverty Monitor
Hikurangi Enterprises
McKenzie Centre Trust
Working Together More Fund
Te Kawai Toro

ActionStation
Connecting Education and Communities
Youth Education Fund
Belong Aotearoa


Link to the J R McKenzie Trust Website here


Other Charitable Shareholders

Another 15% of our shares are owned by numerous other charitable organisations:


HERITAGE

The McKenzie Family Legacy
Sir John Robert (J R) McKenzie
One of seven children of Scottish immigrants, John was born in Melbourne, Australia in 1876. He served in the Victoria Bushmen's Regiment during the Boer War until he was invalided home in 1901. In 1905, he established a 'fancy goods' store with his sister Ella which proved so successful, the pair quickly expanded inter-state. After holidaying in New Zealand in 1909, John decided to transfer his business and the first Aotearoa-based McKenzie's Store was opened in Dunedin.
With a gift of £10,000, he established the first Trust to bear his name in 1938, the J R McKenzie Youth Education Trust. John McKenzie believed that a business should share its prosperity with those who had helped to make it prosperous and so this was quickly followed by the establishment of J R McKenzie Trust in 1940. The Trust's initial beneficiaries were disabled servicemen, the Plunket Society, and children in need. In a true sign of the times, John McKenzie said, 'New Zealand has no greater assets than its soldiers and its children, and the country's future is in their hands.'
In 1949, he was recognised for his contribution to public welfare when he was made a Knight of the Order of the British Empire. Sir John was a humble but inspirational man who accomplished everything with quiet resolve, minimal fuss and maximum decency.
Sir John and his wife, May, raised two sons: Don, who was killed in WWII, and Roy, who expanded and embedded the Trust's mahi. Sir John died in 1955.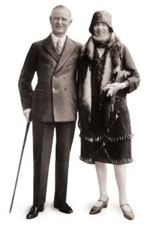 ".…. the only use of money is the use you make of it"
Sir Roy McKenzie
Born in 1922, Roy McKenzie attended Timaru Boys High School and Otago University, where he studied accountancy. During the Second World War he served in the RNZAF and the RAF. In 1948, Sir Roy married Shirley Howard. Together they had three children, Peter, John and Robyn, and nine grandchildren. From 1949 to 1970 he was the Executive Director for McKenzie's (NZ) Ltd.
As the heir to the McKenzie's retail empire, Sir Roy pledged more money than most people will ever earn and is known as one of the great New Zealand philanthropists. The causes he supported were numerous and varied including the establishment of the Te Omanga Trust, the first Women's Refuge, as well as several schools for children from disadvantaged backgrounds.
He donated the land on which Outward Bound sits, and was renowned for his kindness and willingness to work for people in need. He unassumingly saw himself as a 'community volunteer' and in 2004 was a winner of a Wellingtonian of the Year Award in the Community Service category.
Sir Roy sat on the J R McKenzie Trust Board from 1947 – 1993, Chairing it for 17 years. He was significantly involved in the governance of the J R McKenzie Youth Education Fund and set up other grant making bodies such as:
the McKenzie Education Foundation (1966 – 85)

the Roy McKenzie Foundation (1986 – 95) – ground-breaking in its flexibility and innovation, this Foundation was instrumental in the establishment of Philanthropy New Zealand and Generosity New Zealand (originally known as the Funding Information Service).

the Deaf Decade Trust (1992 – present), which now operates as the Deaf Development Fund.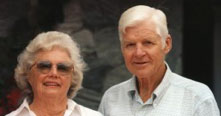 Sir Roy & Lady Shirley McKenzie
Excerpts from Giving It All Away a Paul Davidson documentary about the history of the family